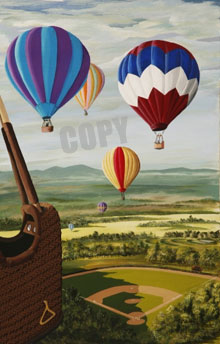 click to enlarge image
Ballooning at the Ballpark
2007
View Ordering Information
Bob's newest painting "Ballooning at the Ballpark" is dedicated to Hot-Air Balloon Pilots. This beautifully detailed aerial view gives you a glimpse of the world they know and love. Bob especially wants to thank his pilot, Richard Ret. Richard took him on his first flight, shared the history of hot-air ballooning, and presided over the traditional ceremony celebrating a first flight! Thank you Richard!
Back to top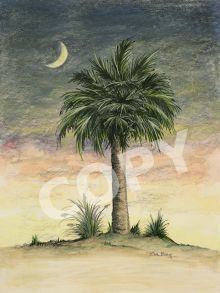 Coastal Morning
2006 View Ordering Information

Bob Gecy strives with this offering to reflect the pride South Carolinians have in their beautiful state flag. The flags history dates back to 1775 when Col. William Moultrie chose a blue background to match the color of the S.C. troops uniforms and a crescent moon which represented the silver emblem worn on their caps. This emblem signified a new beginning. In 1861 the General Assembly of South Carolina voted to add the palmetto tree to Moultrie's original design in order to honor the heroic defense of the palmetto-log fort on Sullivan's Island against the attack of the British Fleet on June 28, 776. With the addition of the palmetto tree, the design was complete and the flag as we know it today was officially created!

Click to enlarge image
Popular as an embellishment on golf shirts, hats, decals, cups and many other items, the beautiful simplicity of our "palmetto tree and crescent moon" logo has attracted popularity second only to the Lone Star of Texas. With a mixed media technique and in a realistic style, Bob has created a celebration of our symbol to display as fine art in a casual or formal setting.
"Coastal Morning" is a limited edition of signed and numbered Giclee prints. It has been featured on TV/WB40 "Focus on the Palmetto State" and is a popular item at the South Carolina State House Gift Shop. Of course prints and custom framing are available at the artist's studio located in the Shadow Box Frame Gallery.
Back to top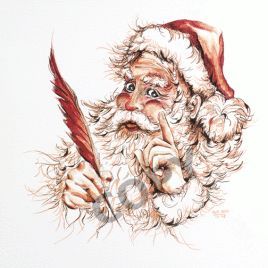 My Eye's On You
1995 View Ordering Information

Born in Pittsburgh, Pennsylvania and now residing in Simpsonville, South Carolina, Bob grew up in a family that loved the Christmas traditions including trips to Kaufmann's Department Store to see Santa. Those memories of going to town with his Mom and Dad at Christmastime were the first inspirations for this painting. Bob began early with a keen interest in art and although he had no formal training, he spent 20 years as a Graphic Artist designing and manufacturing signage for the family business. While creating a limited number of pieces of art for family and friends, this painting, "My Eye's On You", is the first piece to be published. Santa, painted as a Christmas gift for his wife, Connie, in 1995, has become popular with Santa collectors as well as fine art enthusiasts. Also available by Bob Gecy is a companion piece, "Mrs. Claus" as well as a rendition of the South Carolina State symbol entitled "Coastal Morning".
Back to top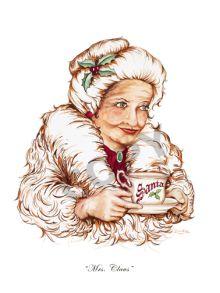 Mrs. Claus


2002

View Ordering Information

"Mrs. Claus", painted as a companion piece for "My Eye's On You" makes a unique addition to the traditional Santa theme. Watercolor and pen again were used to replicate the mood of the Santa print yet give "Mrs. Claus" an identity of her own. Available as a Giclee in several sizes.
Back to top

Be Good For Goodness Sake


2003

View Ordering Information

"Be Good For Goodness Sake" was created to celebrate the fantasy of Christmas and Santa Claus within the African American Community. The water color and pen rendering is becoming a popular Christmas adornment. Available as a

giclee in several sizes.
Back to top
Ordering Information
These prints are available in several sizes. If you would like to order a print of any of these paintings, visit the Ordering Information page.
Email: bgecy@yahoo.com
Studio: (864) 228-0077
Mobile: (864) 275-0001

102 Foxhound Rd
Simpsonville, SC 29680
Call or Email for Appointment
Copyright Bob Gecy 2008. All Rights Reserved.